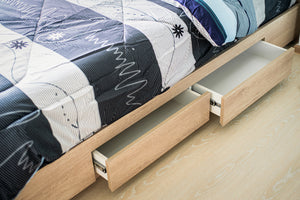 Do you live in a small bedroom and regularly feel like there is not much space to fit all your belongings, not even the necessities? Or perhaps your room has gotten cluttered, and you're searching for ways to declutter and recover your beautiful floor space? There's no need to worry! There are plenty of ways to regain control of your space, whether you're looking to free up floor space or you're suffering from a lack of storage. Below are some smart ways to organize your bedroom without breaking the bank or a sweat while also ensuring a calm and restful...
---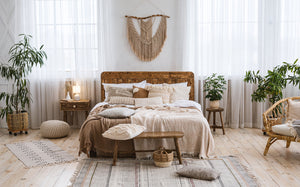 Mixing and matching furniture in your bedroom can seem like a daunting task. It could be a case of sorting out several pieces of existing or new furniture or matching colors to create a cohesive style. With the tons of ideas and inspiration available, you might need to creatively mix and match your bedroom furniture to suit your preferences. In this article, we'll try to help you select furniture pieces that will uniquely transform your bedroom space.  Should You Mix Your Bedroom Furniture? Since matching sets are readily available in stores and catalogs, why is there a need to mix...
---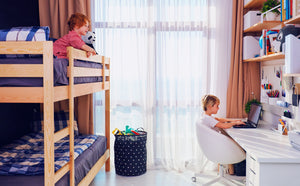 There are many circumstances that require more than one child to share a bedroom. This arrangement can be frustrating for both parents and children. Children often argue over their space and toys. While adults can become flustered due to the clutter and lack of organization. Whether your children occupy one room due to space limitations, or because of their age and bond, there are ways to organize this space efficiently.   Declutter  The first step for any successful organization goal is to declutter the space. You should donate all unwanted toys and clothing that no longer fits.   Remove all seasonal items...
---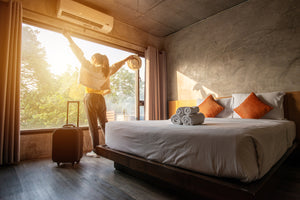 Guest rooms are an important part of your home if you're passionate about hosting friends and family. When designing a guest room, it's crucial to make it both comfortable and functional, so it seems like a home away from home for your visitors. At Bedrooms, we can supply you with the comfortable and functional hardwood furniture that will have your guests thrilled to come stay with you again! Furniture The most important part of a guest room is the furniture it contains. With this being said, the most crucial piece of furniture in your guest room is a comfortable and...
---
• Bedrooms Peabody • Bunk Beds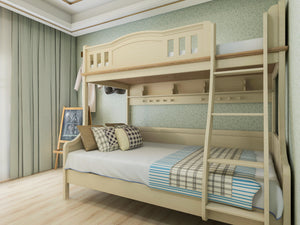 A common question that we get asked is "What is the advantage of buying a bunk bed?". In this article, we'll highlight some of the biggest pros and cons of purchasing a bedroom for your child's room.  Private Space If you're looking into getting a bunk bed for your children's shared bedroom, bunk beds are an excellent way to give them each a bit of personal space. With the addition of some curtains and clip-on lights, each of your children can have their own private space for activities like reading or simply having alone time. This setup is also perfect...